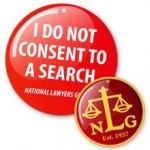 You have rights under the United States Constitution.  If government agents question you, it is important to understand your rights.  You should be careful about what you say when approached by law enforcement officials.  If you give answers, they can be used against you in a criminal, immigration, or civil case.
Whether you are an activist, organizer, or simply an ordinary person, it is essential that you know your rights and feel comfortable exercising them.  To that end, NLG Chicago has assembled a list of resources for you:
NLG Chicago Know Your Rights Pamphlet
        NLG Chicago CTU Specific Know Your Rights Pamphlet
        Conozca sus Derechos – para Los Que No Son Cuidadanos
        Know Your Rights – for Non-US Citizens
        Know Your Rights for Trans and Queer People
        Additional Resources for Trans and Queer People
        Know Your Rights for Military Members, Reservists and Veterans
The National Layers Guild has a long tradition of standing up to government repression.  We recently updated our 16-page manual, You Have the Right to Remain Silent, which is a basic primer for law enforcement encounters.
The Center for Constitutional Rights, which was founded by Guild attorneys, publishes a 48-page booklet for activists and organizations targeted by federal law enforcement agencies entitled If an Agent Knocks.
NLG Chicago's NLG Chicago KYR Quarter Sheet is a short and simple know your rights flyer.
Know Your Rights Teach-Ins
Additionally, the chapter organizes Know Your Rights Teach-Ins for the community.  To request information on upcoming teach-ins, contact us at nlgchi.knowyourrights@gmail.com .
Emergency Response Hotline
NLG Chicago also operates an Emergency Response Hotline. Call  312-913-0039 and press 0 if you've been arrested or are facing arrest or facing a similar emergency to talk to one of our on call staff.
Disclaimer: These resources are for informational purposes only and do not constitute legal advice.  For answers to specific legal problems, issues or questions, obtain the advice of a qualified attorney in your area.