Chicago has a long and rich heritage of labor struggle and local Guild lawyers continue to be active in the fight to build union power and promote workers' rights.  Members of the local Labor & Employment Committee practice in a variety of settings (solo practice, private firm, government, in-house) and in a number of areas of labor and employment law.  The Committee is particularly keen to partner with unions, worker centers and other local organizations to build power amongst workers.
Past committee projects have including assisting Interfaith Worker Justice with a project to identify wage theft victims at a voluntary income tax assistance clinic and organizing a Black Friday demonstration at a local Walmart.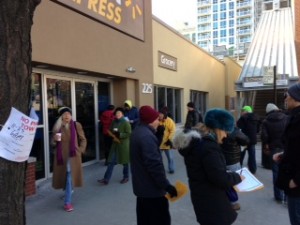 The Committee normally meets quarterly, and an active listserv is a valuable ongoing tool to members.  The Committee also has a representative on the national labor & employment committee.  To join the committee or for more information, please contact Elisa Redish at eredish [a] cornfieldandfeldman.com.