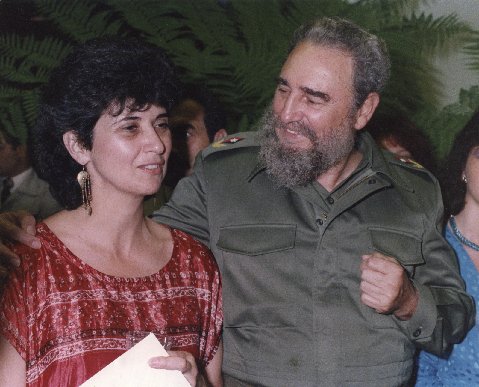 National Lawyers Guild of Chicago's
2011 Annual Dinner
Honoring NLG Attorney
DEBRA EVENSON
A past president of the Guild, law professor, and one of the nation's foremost authorities
on the legal system and institutions of Cuba
Saturday, November 5, 2011
Irish-American Heritage Center
4626 N. Knox , Erin Room (4th Floor)
6:00 p.m.
On-site parking | Wheelchair accessible
* * * * *
This year NLG Chicago proudly honors Debra Evenson with the Arthur Kinoy Award.
A past president of the Guild, law professor, and one of the nation's foremost authorities on the legal system and institutions of Cuba, Debra represented the finest tradition of a People's lawyer. Since 1992, Debra was part of a legal team representing Cuba and its agencies and enterprises in all matters pertaining to the United States. She fought for the legal defense of Cuban sovereignty, and she is remembered by high government officials and workers, intellectuals and artists, academics and lawyers.
Debra also was a founding board member of the Sugar Law Center and remained on the Board until her death. Her work as a board member was instrumental in helping the Sugar Law Center defend the rights of working people in plant closing cases and the Center's other important work.
During her time as Guild president from 1988-1991, Debra inspired younger generations to combine political passion to combat injustice and exploitation with outstanding legal skills. A fierce intellectual and tireless worker for the People, she taught—inside and outside the law school classroom—by her example, her publications, and her work. Debra died in Chicago on August 17, continuing to teach us through her grace and resilience confronting cancer. She will be deeply missed.
Join us as we celebrate Debra Evenson and her profound commitment to justice, the Guild, global equality, and full recognition of the Cuban nation and people.
* * * * *
The Evenson family will hold a memorial service for Debra on Sunday, November 6, 2011 from 12-4 at the Jazz Showcase, located at 806 S. Plymouth in Chicago.
* * * * *
To place a tribute to Debra in the commemorative program book, visit here.
Please place all tributes by October 14, 2011 to ensure they are ready for the dinner.
* * * * *
Tickets $100
Table for 8 $750
Low-Income $65
Students $25
Purchase your ticket(s) online:
or
Send reservations and payment to:
NLG Chicago
637 S. Dearborn
Chicago, IL 60605
312-913-0039
chicago@nlg.org
NOTE:  Contributions are welcome to sponsor law students or low income attendees.   Simply select one of the subsidized ticket options from the Paypal menu, or click the "Donate"  button on the righthand side of your screen.