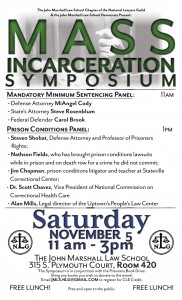 Mass Incarceration Symposium
Saturday, November 5th, 11:00 a.m. – 3 p.m.
At the John Marshall Law School, 315 S. Plymouth Court, Room 420
Agenda:
11 a.m. – 12:30 p.m. – Mandatory Minimum Sentencing Panel
Featuring Defense Attorney MiAngel Cody; State's Attorney Steve Rosenblum; and Federal Defender Carol Brook
12:30 p.m. – 1 p.m. – Free Lunch
1 p.m. – 3 p.m. – Prison Conditions Panel
Featuring Steven Shobat, Defense Attorney and Professor of Prisoners' Rights; Nathson Fields, who has brought prison conditions lawsuits while in prison and on death row for a crime he did not commit; Jim Chapman, prison conditions litigator and teacher at Stateville Correctional Center; Dr. Scott Chavez, Vice President of National Commission on Correctional Health Care; and Alan Mills, legal director of Uptown People's Law Center.

Click the photo for more information.
The Symposium is in conjunction with the Prisoners Book Drive.
Bring any books you wish to donate to the event!
Email jmls.nlg@gmail.com to register for CLE Credit.
Free and open to the public.
RSVP: jmls.nlg@gmail.com
Sponsored by the John Marshall Chapter of the National Lawyer's Guild and the John Marshall Democrats