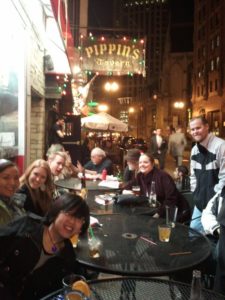 The Next Generation (Next Gen) Committee is the Guild's way to smooth the transition from engaged law student to seasoned practitioner of people's law.  The National Next Gen Committee helps develop and sustain local Next Gen chapters and promotes new leadership within the Guild.
The Chicago Next Gen Committee is a collection of young, progressive and radical attorneys, legal workers, and law students dedicated to social change and building like-minded community.  As a part of NLG Chicago, we are committed to supporting and sustaining the "next generation" of the Guild through mentoring, socializing, organizing, and skill-building.
Chicago Next Gen hosts our famous monthly Happy Hour, all are welcome!  We float to different locations every month, so subscribe to our happy hour mailing list and stay in the loop!  Send an email to nextgenchicago@gmail.com, and we'll add you.
Next Gen also organizes CLEs, discussions, and other social events.  For more information on the Chicago Next Gen Committee, email us at: nextgenchicago@gmail.com.