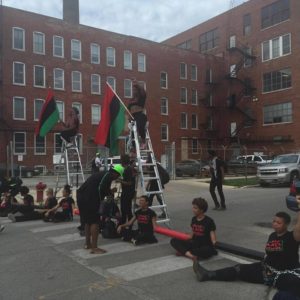 The National Lawyers Guild of Chicago's Mass Defense Committee, National Police Accountability Project-Chicago Chapter, and the Cook County Bar Association put together a special training by movement attorneys Emmanuel Andre (Law Office of Emmanuel Andre), Melinda Power (West Town Law Office), and Janine Hoft (People's Law Office) on how to represent people
charged with ordinance violations or misdemeanor offenses in Chicago as a result of their political activity. This training was designed for attorneys with little or no criminal defense experience or who would like more discussion and education on representing political people in criminal cases. The training covered bond court, Chicago city ordinance violations, and misdemeanor criminal cases.
Attendees were invited to use their skills as a criminal defense attorney to help political movements and join the NLG Chicago's Mass Defense Committee (MDC) Attorney Referral List. The MDC Attorney Referral List is a local list attorneys who represent activists arrested at protests on a free or low-cost basis. Referral List attorneys
have represented over 300 protestors free of charge in 2016. Recent MDC clients have included people from the Black Lives Matter Movement, the Mental Health Movement, Jewish Voice for Peace, anti-Illinois budget cut organizers, and many more!
Facebook event here.
Please email chicago@nlg.org with any questions.
The NLG Chicago Mass Defense Committee is a volunteer network of legal workers, law students, and lawyers committed to providing effective legal support for progressive movements.