Keisha Hankerson was acquitted last week of misdemeanor battery from the December 13, 2014 demonstration to STOP police murder.
Keisha stood strong because, as she said, "I didn't do anything wrong. Why should I pay a penalty?" She should NEVER have been charged in the first place. The bench trial lasted over an hour with a CPD sergeant changing her story as she was being cross-examined while Keisha and her witness were unshakable in their testimony.  Despite being offered several deals over the months between her arrest at the December 13th protest and again just before her trial started on Thursday, Keisha held steadfast and refused to plead guilty to anything.
Two others arrested at the December 13th protest face even heavier charges –  David Iggy Rucker and Alfredo Reyes. Each faces up to 7 years in prison, also for doing nothing wrong. No trial date has been set for either of them.
Keisha thanked everyone who came out to support her.  Here she is with her two National Lawyers Guild Attorneys, Theresa Kleinhaus and Jim Fennerty who represented her pro bono on either side of her and with her witness on the right.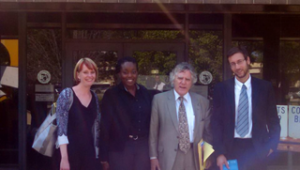 Also check out the Stop Mass Incarceration Network which organized the solidarity protest.