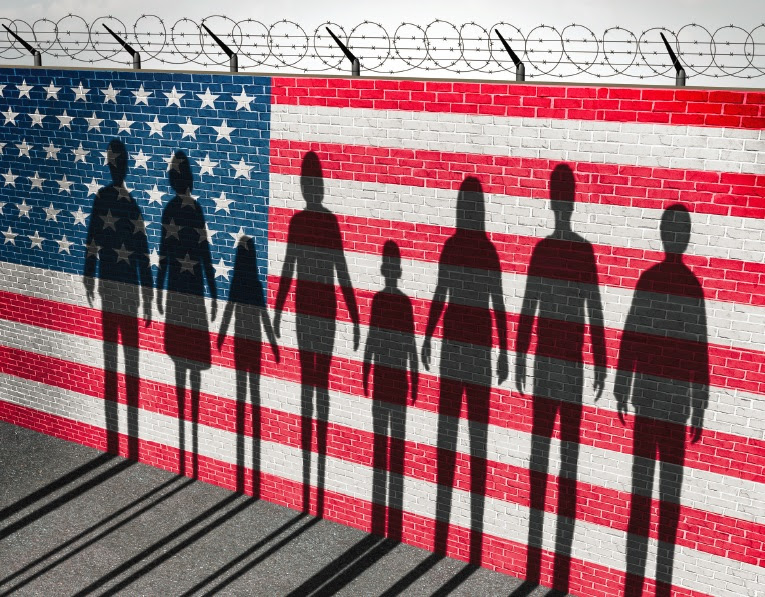 On Friday November 11, 2016, the Loyola Law School Chapter of the NLG hosted a symposium titled "(Un)Documented": Human Impact of Our Immigration Policies and Advocacy Strategies. The symposium was presented by the Loyola Public Interest Law Reporter and addressed one of the most controversial issues in the 2016 presidential election: immigration. The featured speaker, Irakere Picon, shared how the Deferred Action for Childhood Arrivals (DACA) gave him the opportunity to lobby the Illinois state government to enact a law allowing undocumented immigrants to take the bar exam. The speakers discussed the future of DACA in light of the recent Supreme Court split decision in Texas v. United States and the current presidential election. Speakers also discussed the humanitarian crisis of unaccompanied minors arriving at the U.S.-Mexico border, immigration and criminal law issues, and the role of activist lawyering in the current political climate.
Below is a list of the speakers with biographies:
FEATURED SPEAKER
Irakere Picon is an attorney and activist. As an undocumented immigrant, he successfully lobbied the Illinois state government to enact a law allowing undocumented immigrants to take the bar exam and became the first undocumented immigrant licensed to practice law in the state of Illinois this October. Mr. Picon has worked at Community Activism Law Alliance as a staff attorney. He graduated from Northern Illinois University College of Law. Prior to law school, he was the executive assistant at the Illinois Coalition for Immigrant and Refugee Rights in Chicago.
SESSION 1
Nebula Li is a staff attorney with Community Activism Law Alliance (CALA) and committed to engaging with communities to advance social change. Before starting at CALA, Nebula Li practiced immigration, criminal defense, public benefits and civil rights law at Legal Council for Health Justice (formerly known as AIDS Legal Council of Chicago), Shiller*Preyar Law Offices, Asian Americans Advancing Justice-Chicago and Justice for Our Neighbors. Nebula Li graduated from the University of Chicago Law School in 2011. Nebula Li also interned at Immigration Equality and Harvard Immigrant & Refugee Clinic/Greater Boston Legal Services.
Kalman Resnick is a shareholder with Hughes Socol Piers Resnick & Dym., Ltd. Mr. Resnick's almost 40 years of experience as an immigration law practitioner and his vast knowledge of a multiplicity of immigration practice areas contributes to his ability to advocate for and counsel his clients in the field of immigration law. He has litigated immigration cases before the U.S. Courts of Appeals, the U.S. District Court, and the Board of Immigration Appeals. Mr. Resnick graduated from University of Michigan Law School.
Luis Huerta-Silva is an administrative relief regional trainer with Illinois Coalition for Immigrant and Refugee Rights. Also, he is a coordinator at Sueños Sin Fronteras: Making College Dreams a Reality, an organization encouraging Latino high school students in South Bend to pursue a higher education while embracing their culture and giving back to their community. Mr. HuertaSilva graduated from University of Notre Dame with a BA in Political Science and Latino Studies.
Michael Santomauro is founder and principal attorney for Santomauro Law. Mr. Santomauro's practice focuses on helping people navigate the complex immigration system to develop affordable legal solutions best tailored to meet their needs. Michael has worked in the area of immigration law since 2008, and recently completed a grant-funded position with the DePaul Asylum and Immigration Law Clinic focused on Obama's Deferred Action for Childhood Arrivals program. Michael is a member of the American Immigration Lawyers Association (AILA) and attends local Chicago Chapter meetings. He graduated from DePaul University College of Law.
SESSION 2
Katherine Kaufka Walts is the Director of the Center for the Human Rights of Children at Loyola University Chicago focused on promoting the rights and dignity of children by addressing local and global issues facing children via multidisciplinary scholarship and research, outreach and education, and advocacy. Prior to joining Loyola, she served as the Executive Director of the International Organization for Adolescents (IOFA). At IOFA, she developed several projects in the U.S. and abroad advancing the rights of children and youth, including a program to develop the capacity of child welfare system to better respond to child trafficking and exploitation cases. She also managed the Counter-Human Trafficking project at the National Immigrant Justice Center, where she successfully represented victims of human trafficking in the U.S. within immigration and criminal justice proceedings under the Trafficking Victims Protection Act.
Hillary Richardson is a staff attorney with National Immigrant Justice Center's (NIJC) Asylum Project, where she focuses her work on obtaining relief for unaccompanied immigrant children, often in the form of asylum or Special Immigrant Juvenile Status (SIJS). Ms. Richardson also provides technical support to family law attorneys on cases involving SIJS predicate orders from Illinois state courts. Prior to joining NIJC, she worked at LAF's Children and Families Practice Group, and served as a staff attorney at the Northwest Immigrant Rights Project in Tacoma, Washington, where she provided legal orientation and removal defense for detained adults. Before attending law school, she worked as a paralegal and BIA accredited representative with NIJC's Adult Detention project. She graduated from DePaul University College of Law.
Kendra H.M. Scheuerlein is an associate with Hughes Socol Piers Resnick & Dym, Ltd. She concentrates her practice in the areas of immigration and nationality matters. These include family-based immigration issues, naturalization, asylum, U visa, and Deferred Action for Childhood Arrival applications. Her practice also encompasses a wide breadth of businessrelated immigration topics, including nonimmigrant work visas, and employment based permanent residence applications. She also represents clients in removal proceedings before the Department of Homeland Security. Ms. Scheuerlein graduated from the DePaul University College of Law.
SESSION 3
Maria Baldini-Potermin founded Maria Baldini-Potermin & Associates, P.C. in Chicago. She has more than 26 years of experience working in the immigration law field, beginning in 1990 with assisting detained asylum seekers on the Texas-Mexico border. Ms. Baldini-Potermin focuses on removal defense, federal litigation, waivers, family-based immigration, and criminal immigration. She is the author of Immigration Trial Handbook, the update editor for Immigration Law & Crimes, and an expert author-consultant for Interpreter Releases and Immigration Briefings. She has written four manuals on the interstate of state law and immigration law covering Illinois, Indiana, Minnesota, and Wisconsin. She has presented at continuing legal education seminars and trainings around the U.S. She received the 2013 American Immigration Lawyers Association (AILA) Presidential Commendation and is the chair of AILA's Federal Court Litigation Section. She is a member of the Board of Directors for the National Immigration Project of the National Lawyers Guild.
SESSION 4
Priscilla Orta is a staff attorney with Community Activism Law Alliance. She has been practicing immigration law almost exclusively for the past five years, beginning with her time as a law clerk with the Executive Office for Immigration Review in Harlingen, TX. She has also worked as a staff attorney for Sunflower Community Action in Wichita, Kansas. Ms. Orta is certified to appear before the Department of Veteran Affairs and has a long history of organizing communities to seek alternative solutions to their problems. She graduated from Columbia Law School.
Nubia Willman is a staff attorney in the Immigrants and Workers' Rights Practice Group at LAF. She represents low-income clients who are victims of domestic violence and other serious violent crimes seeking immigration relief. Additionally, she trains private attorneys, social service providers, and law enforcement officers on immigration remedies for domestic violence and sexual assault survivors. She is the editor of Latinas Uprising, an online community focused on empowering current and aspiring Latina lawyers. Ms. Willman earned her JD from Loyola University Chicago School of Law in 2010.
Darlene Gramigna is program director for the Immigrant Youth program of the American Friends Service Committee in Chicago. She has been active in organizing high school aged undocumented students and their allies to become the next generation of immigration activists. She has a MSW from the University of Denver. Ms. Gramigna has been active in Central America solidarity work and lived in Nicaragua.
Rebecca Shi is executive director of Illinois Business Immigration Coalition (IBIC), and works directly with a steering committee of 68 Illinois-based CEOs, University presidents, chambers of commerce and immigrant advocates to develop and implement strategy that support the passage of federal immigration reform. IBIC has been extraordinarily effective in moving the politics of the state, winning public bipartisan support from the majority of Illinois's Congressional delegation for commonsense immigration reform. Ms. Shi was the campaign manager for Illinois's SB 957 driver's licenses for undocumented immigrants that resulted in licensing and insuring 450,000 undocumented immigrant drivers in Illinois. She graduated from the University of Chicago.