Last month, The Stoop dedicated its live show to raising awareness and donations for NLG Chicago. Chapter Administrator Remigio Torres, actress Jasmin Cardenas, and comedian Jaime De Leon all shared stories under the theme "You can get with this, or you can get with that. As thanks, NLG Chicago is using the proceeds to give away 3 tickets to its Annual Dinner.
'Guantanamo on The Hudson'
The Stoop is a monthly, off-book, live storytelling event hosted by Lily Be at Rosa's Lounge in Humboldt Park. Now in our third year of sharing real Chicago stories, they also support Chicago-based non-profits through donation collections during our live show. It exists as a platform that brings Chicagoans to a better understanding of one another and inspire change. They believe that you can't change people if you don't understand them. Every month, Chicagoans fill Rosa's Lounge to hear untold stories presented by community members who would never consider sharing. Stoop-styled stories are raw, not sanitized, and imperfect.
The Stoop will be back at Rosa's Lounge on October 27 where the theme is 'Sheisty'. Find them on Facebook for more details.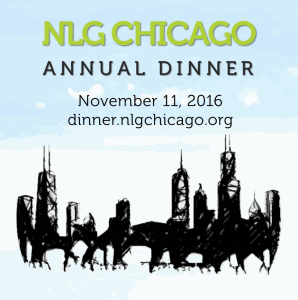 Join NLG Chicago on Friday, November 11 at the Irish American Heritage Center (4626 N. Knox Ave.) for a night of celebrating our awesome Chicago activist community. Learn about our dinner honorees and purchase tickets at dinner.nlgchicago.org.