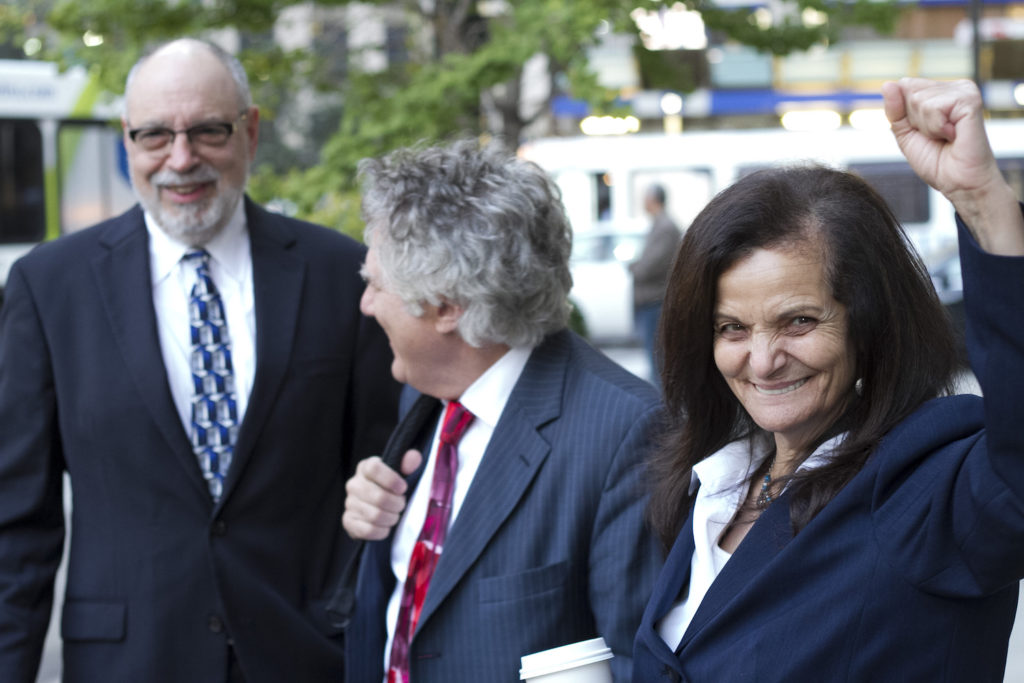 After a three year fight to oppose a politically motivated federal indictment charging her with failing to disclose her 1969 arrest and imprisonment by Israeli military authorities in her naturalization citizenship application,  Rasmea Odeh plead guilty, in return for no time in prison or immigration custody. As a result, following her sentencing on August 17th, she will lose her citizenship and be required to leave her adopted home and beloved community.
Rasmea's story, like most other Palestinians, is one of dispossession and repression. She was born in 1947 in Lifta, a Palestinian village outside Jerusalem. In 1948, as a result of Israeli aggression and "ethnic cleansing," Rasmea and her family, along with 750,000 other Palestinians, were forced out of their homes by Zionist militias. The Odeh's lost their home and all their possessions.
The family resettled on the West Bank of the Jordan River, then under the control of Jordan, when in 1967 the Israeli Army invaded and began its military occupation which continues to this day. Hundreds were arrested resisting the Occupation, and many were tortured and forced to sign false confessions. Rasmea, a college student, who was refused permission to return to school in Lebanon, was arrested in 1969. While in Israeli custody, she confessed to involvement in two bombings after she was tortured: sleep deprivation, beatings, sexual assault, rape and electro-shock.  Following her arrest, her parents' West Bank home was demolished – a form of collective punishment that continues – and an Israeli military tribunal sentenced her to life in prison. Ten years later, Rasmea and other Palestinian woman prisoners were released in a prisoner exchange.
After living and working on behalf of refugees in Jordan, Rasmea came to the U.S. in 1995 to take care of her ailing father, and then relocated to Chicago in 2004, after obtaining her naturalized citizenship. In Chicago she joined the Arab-American Action Network (AAAN) where she founded a project supporting women's empowerment, the Arab Women's Committee.  Her work has become the model for other Arab women's organizations across the country and she has received many awards recognizing her as an inspirational community leader.
Despite the final outcome, Rasmea's legal fight raised important issues of Israeli torture and post-traumatic stress disorder (PTSD) caused to Palestinian detainees, the kangaroo Israeli military courts, and how the government targeted Rasmea because of Palestine solidarity work.   Hundreds of supporters filled her court hearings and many more were educated about the Palestinian fight for justice.  We will miss Rasmea, but are confident wherever she is; she will be a strong voice for the human rights of the Palestinian people.
Written by Michael Deutsch and Jim Fennerty