Members of NLG Chicago, Chicago Action Medical, and Tilted Scales Collective discussed ways of strengthening radical/revolutionary struggle and improving community self-defense when faced with criminal charges and the ravages of the prison-industrial complex. This event held on February 26, 2017 was inspired by the newly published book "A Tilted Guide to Being a Defendant," written by Tilted Scales Collective to help radicals figure out how to handle serious criminal charges in ways that strengthen movements rather than allowing the state to use them to disrupt and destroy our movements.
Tilted Scales Collective wrote "A Tilted Guide to Being a Defendant" after noticing that the state is highly skilled in using criminal charges to neutralize, disrupt, and destroy radical/revolutionary social movements–-and that most defendants are ill-equipped to handle those charges in ways that advance their struggles. They reached out to around 100 people across the country, including current and former political prisoners/prisoners of war, to provide radicals with the best tools and insights for fighting criminal charges while continuing their struggles. You can download a free e-book of the Tilted Guide to Being a Defendant at the link here!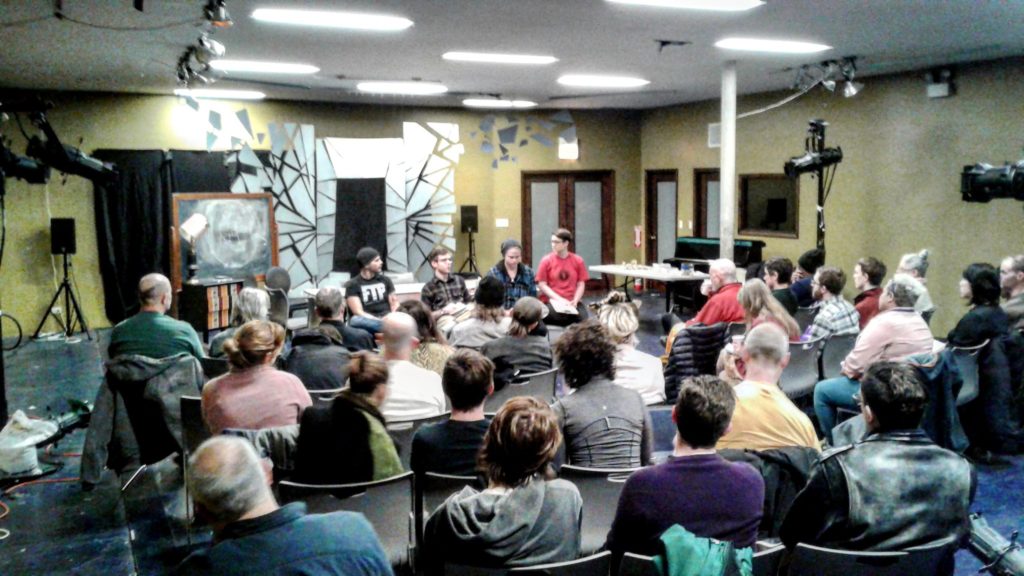 Participants:
Jude has been involved in anarchist legal support organizing and prisoner support since he joined a legal collective in Minneapolis prior to the 2008 RNC. Since then, he has been part of many legal support efforts ranging from local one-off direct actions to summits such as the RNC/DNC, NATO, and G20. He has also been involved in defense committees for numerous prisoners across the country. Jude helped form Tilted Scales Collective after an Anarchist Black Cross conference in 2012. In 2016, he took on the position of chair of the Mass Defense Committee with the National Lawyers Guild, through which he helps with legal support efforts at protests and uprisings across the country.
Brent Betterly was arrested and charged in connection with an elaborate conspiracy authored by the Cook County State's Attorney's Office during the 2012 NATO summit in Chicago. The case was later revealed to be a part of a larger effort by CPD to infiltrate and criminalize the anarchist community in Chicago. He was acquitted of several state-level terrorism charges and served three years of a six year prison sentence for possesion of incendiary devices, which were also revealed to have been manufactured and planted by CPD. Brent is an activist involved in organizing around antifascism and prisoner support work.
Members of Chicago Action Medical (CAM) were present to discuss their work locally and at other actions and uprisings around the country. CAM is a group of volunteers who are trained in basic first aid and has been working in Chicago since 2002, providing medical support at direct actions for social change. Free grassrooots medical care at protests is a tradition going back centuries worldwide. CAM also frequently holds down jail support in Chicago. Read more about CAM's work: https://chicagoactionmedical.org/.
Volunteers with NLG Chicago and Chicago Community Bond Fund also shared information about and reflections on our existing infrastructure for supporting movements in Chicago.
Also, please consider writing to, sending books to, or supporting with commissary funds Jay Chase, the NATO 3 prisoner still inside. Updates are at Free the NATO 3, and you can write to Jay here:
Jared Chase M44710
Pontiac Correctional Center
PO Box 99
Pontiac, Illinois 61764
More resources from Tilted Scales: Free access to the zine and book are available at titledscalescollective.org and you can request a copy of the Prison Activist Resource Center resource list be sent to prisoners via prisonactivist.org.
Follow Chicago Action Medical's Facebook page to learn about their upcoming street medic trainings. CAM is also available to do health and safety trainings for organizations that request them!
For more information on our work, and follow the NLG Chicago Legal Observer Program page and our twitter account.
You can also connect with Chicago Community Bond Fund, Chicago Anarchist Black Cross, and Chicago General Defense Committee via their pages.