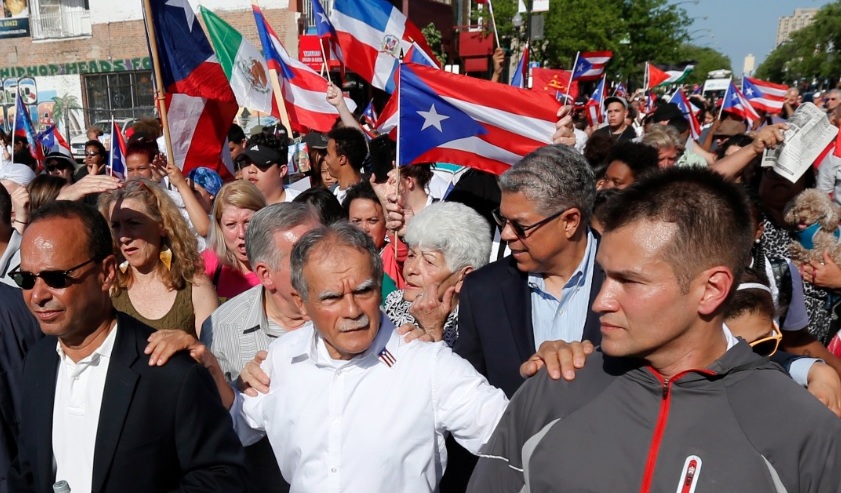 I have come home with my head high, and my honor, my dignity and my spirit stronger than the day I was sent to prison
– Puerto Rican Political Prisoner Oscar López Rivera
On May 17, after almost 36 years in U.S. custody for his commitment to the independence and self-determination of Puerto Rico, Oscar López Rivera walked in to the waiting arms of the Puerto Rican people, his sentence commuted in the last days of Barack Obama's presidency. Greeted with an early morning serenade by the chorus of the University of Puerto Rico, flowers, embraces, tears and media from all over the world, Oscar emerged with a message of unity, grateful for the consensus that resulted in the presidential commutation of his sentence.
Thousands of cheering people of all ages packed the plaza in San Juan to welcome him home. As the country's finest musicians performed a concert in his honor, families passed their small children over and through the crowd, so they could be photographed with Oscar. His message was firm and loving: We must act together to save Puerto Rico from the U.S. imposed "junta" [Fiscal Control Board] which is ravaging our country; We must support the students whose strike at the University of Puerto Rico has galvanized the movement to stop the draconian economic measures being imposed on the island and to focus on the necessity to decolonize our country.
Oscar is perhaps the most recognized Puerto Rican on the island. When he walks down the street, traffic stops, as people jump out of their cars, rush to his side to hug him, thank him, and take a selfie. When he eats in a restaurant, the wait staff, the chef, the patrons, all embrace him and take a selfie.
Each day of freedom has led him to another welcome event, from the Ecumenical Coalition where he was embraced by the Archbishop of San Juan and bishops from several denominations, to the 36 Women for Oscar who for four years had demonstrated the last Sunday of every month, to the striking UPR students, to the pro-statehood mayor of San Sebastián's reception in his hometown, to the pro-commonwealth mayor of San Juan's sponsorship of his art exhibit in the city's art gallery.
Oscar López Rivera at the Puerto Rican Day Parade and #PuertoRico's anti-colonial struggle @nyricanscholar #PRDP https://t.co/FoGC4Bx5NQ pic.twitter.com/gmWGBgvefP

— NACLA Report (@NACLA) June 16, 2017
His travels have taken him to Chicago's Puerto Rican community, the Bay Area, and New York City, Holyoke and Springfield, MA, and Bridgeport, CT where he has been regaled by civic and community leaders, with cultural presentations, and with much love. In New York City, in addition to leading the National Puerto Rican Day Parade, he was honored by the United Nations Decolonization Committee, where, during its annual hearings on Puerto Rico he received standing ovations. He told the Committee:
I have spent five decades serving what I believe is the most just and noble cause any Puerto Rican citizen can serve. Doing it has been an act of love and fulfilling my duty as a citizen. And because I believe that when one serves a just and noble cause, it is never a sacrifice, even if it means giving one's life doing it. I say this to let people know that for me, serving a just and noble cause has been the most liberating experience I have had, and that in spite of all the horrible things done to me during the years I spent in prison, I have come home with my head high, and my honor, my dignity and my spirit stronger than the day I was sent to prison.
In UN five minutes ago, today June 19, 2017: chant of "independencia para Puerto Rico" pic.twitter.com/31mualNgnS

— Inner City Press (@innercitypress) June 19, 2017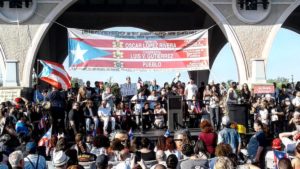 During his trips to Chicago, his home for many years, among the many activities he took part in, he spoke at the honorary naming of Oscar López Rivera Way in Humboldt Park and at a diverse welcome home celebration; he was grand marshal of the Puerto Rican Day Parade; and he led a walking tour of institutions in the Puerto Rican community which he helped found more than 40 years ago, which continue to thrive and offer much needed services to the community.
After three decades in prison, Chicago welcomes home Oscar Lopez Rivera with a parade through Humboldt Park pic.twitter.com/G8QrGur8qY

— agitator in chief (@soit_goes) May 18, 2017
His travels will take him to the 2017 NLG #Law4thePeople Convention in Washington, D.C. this August, where he will receive the Arthur Kinoy Award and speak on a panel about political prisoners.
Come celebrate with the NLG's Puerto Rico Subcommittee, which has for years held the Guild's laboring oar advocating for his release and the noble cause which led to his imprisonment – the independence and self-determination of Puerto Rico, sponsoring resolutions, workshops and panels – even the NLG's 2013 convention on the island! Join us in celebrating Oscar this summer: this is an opportunity you won't want to miss!
Written by Jan Susler
Some more info on Oscar Lopez Rivera's ongoing work:
Oscar López Rivera's Tour Through Puerto Rican Community In Chicago Following His Release From Prison
Ecumenical group hosts welcome at Puerto Rico church for freed prisoner
Special Commitee Approves Text Calling on United States to Expedite Puerto Rico's Self-Determination Process, Welcomes Release of Long-Time Independence Activist
Oscar Lopez Rivera Urges UN to Put an End to US Colonialism in Puerto Rico
Here's the full video of Oscar Lopez Rivera's Hearing at the UN Special Committee on Decolonization: