The #ExpandSanctuary Campaign is the joint venture of Mijente, BYP100, and OCAD. These three Black, Latinx, and migrant organizations came together in the wake of Donald Trump's attack on "sanctuary" cities to push Chicago to stand in defiance of the President, defend the constitution, and promote policies that offer real safety to all residents. Their campaign is focused on four major goals:
The decriminalization and alternative processing of crimes of survival, DUIs disproportionately policed in Black and Latinx neighborhoods, incidents at schools, drug related offenses, and more.

Elimination of the flawed gang database.
Reallocation of city resources from law enforcement to community institutions that provide long-term safety such as schools, clinics, and hospitals.
Amendments to the Welcoming City ordinance to prevent collusion with federal deportation agents.
For another overview of the #ExpandSanctuary Campaign, you can watch this video with Tania Unzueta, the Legal and Policy Director for Mijente; and Janaé Bonsu, National Public Policy Chair of BYP100.
Expand Sanctuary from Sensitive Visuals on Vimeo.
Mijente is a new hub for social justice organizing both online and on the ground. They are meant to be the political home for Latinx and Chicanx people, helping develop the next generation of leadership for social change. The folks behind Mijente understand that in order to dismantle systems of oppression, Latinx leaders, advocates, organizers, cultural workers, media-makers, writers and theorists must come together to make the culture and policy changes their community needs.
Organized Communities Against Deportations (OCAD) is a community based organization in Illinois that organizes against unfair and inhumane immigration enforcement practices that impact immigrant communities. We fight case by case, person by person, at the same time that we work to change the implementation and enforcement practices that criminalize our community.
BYP100 is an activist member-based organization of Black 18-35 year olds, dedicated to creating justice and freedom for all Black people. They do this by building a collective focused on transformative leadership development, direct action organizing, advocacy and education using a Black queer feminist lens. Their work includes training young black activists in organizing and tactics, mobilizing young black leaders on issues of dismantling the prison industrial complex and securing LGBT and women's rights, and running campaigns against the criminalization of Black youth, racial profiling, and police brutality.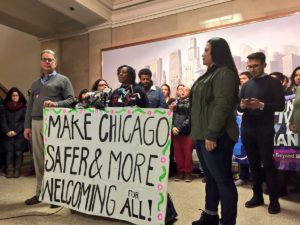 The #ExpandSanctuary Campaign was launched in Chicago in a press conference on January 26, in which Mijente, OCAD and BYP100 called on Mayor Rahm Emanuel to do more to committing to keeping Chicago a sanctuary city.
Since then, the campaign has also highlighted the effects of the gang database on Black and Brown residents of Chicago. In the case of Luis Vicente Pedrote-Salinas, his lawyers say he is not and never has been a gang member, but was falsely labeled as one after being arrested six years ago for allegedly having an unopened can of beer in his truck. Pedrote would qualify for DACA were he not erroneously listed in the database. To read more on the case, check out:
Chicago Sun Times: Unopened beer can, gang database errors fuel deportation case
Chicago Tribune: Immigrant sues Chicago, police for placing his name in gang database
On October 10, the #ExpandSanctuary Campaign, held an action against the proposed $95 million police academy by blocking a section of Randolph Street with three life-size representations of statistics that show how Chicago and Mayor Emanuel have failed to live up to the claim of being a "Sanctuary" city.
The National Lawyers Guild is proud to be presenting the NextGen award to the #ExpandSanctuary campaign. Mijente, BYP100, and OCAD represent some of the most innovative and outstanding organizing in Chicago.
For our 80th Anniversary, show your support for the Guild by buying a ticket!