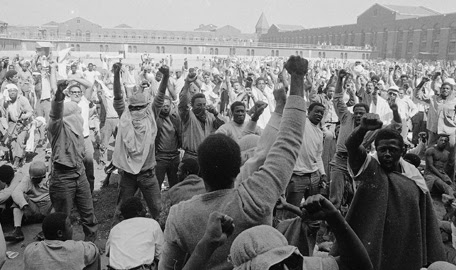 On Friday, October 14th, 2016, Loyola NLG, the Uptown People's Law Center, and People's Law Office hosted a panel/discussion about Attica and the current prison struggle.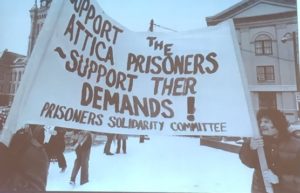 The panel members were: Heather Thompson (author of Blood in the Water: The Attica Prison Rebellion of 1971 and its Legacy), Benny Lee (Pontiac Brother and community organizer), Alan Mills of the Uptown People's Law Center and
Brian Nelson (Solitary Survivor and community organizer). The event was moderated by Michael Deutsch, Attica Brothers Lawyer.
The Attica brothers wanted to get the media in right away. Police came from all over New York state, weapons were passed out indiscriminately over 4 days at Attica before they went in. Prisoners' demands were shockingly basic in the end, covering things like food & healthcare. You can read their manifesto here.
You can watch the entire panel/discussion here.
For more info check out:
American Prison Inmates, On Strike on WBUR
Obituary for Elizabeth Fink, attorney who represented the Attica Brothers
The Largest Prison Strike in U.S. History Enters Its Second Week