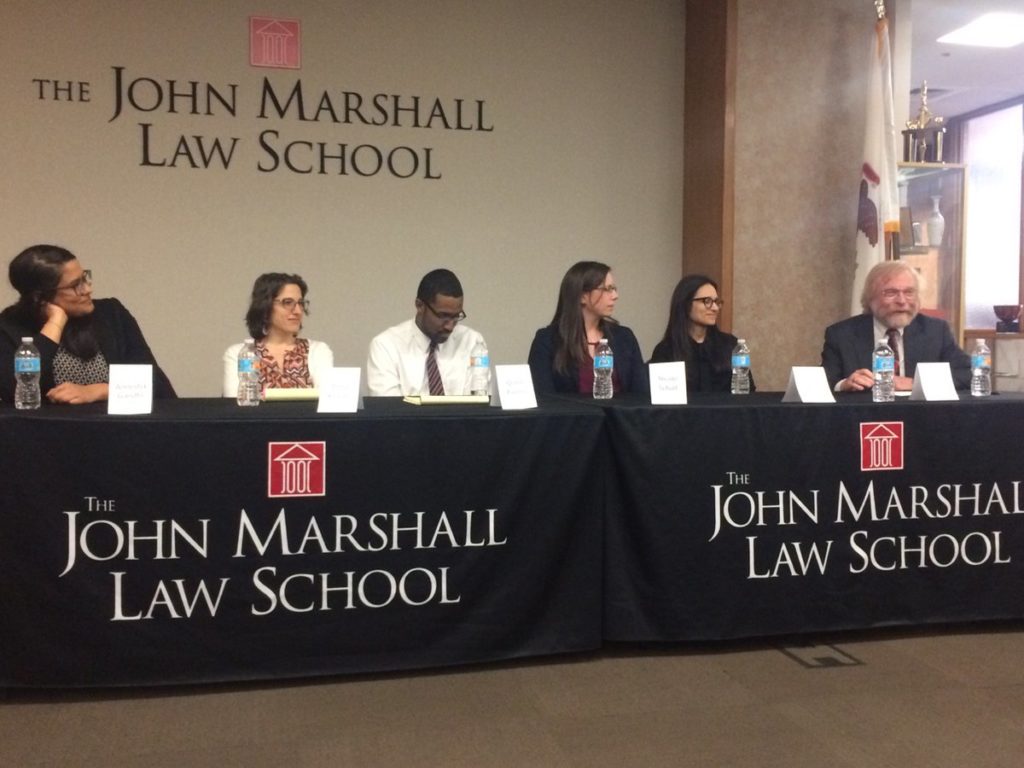 The JMLS student chapters of the National Lawyers Guild and The American Constitution Society hosted a symposium on public interest law on Thursday, April 13th, as their final event of the semester.
Six attorneys from diverse public interest fields discussed their practices and offered advice on navigating law school and developing a career in people's law.
Aneesha Gandhi is a Supervising Attorney at the National Immigrant Justice Center's LGBT Immigration Rights Initiative. She primarily handles LGBT asylum cases.
Dima Khalidi is the founder and director of Palestine Legal. Her work focuses on advocating for and providing legal advice to Palestinian advocates.
Iveliz Orellano is an Assistant Cook County Public Defender and JMLS graduate. She began her career litigating civil rights and police misconduct cases.
Nicole Schult is an attorney at Uptown People's Law Center. Her practice areas include: fair housing, social security, and prisoner's rights.
Quinn Rallins is a community and health care justice attorney at the Sargent Shriver National Center on Poverty Law. He began his career as a clerk at the NAACP Legal Defense and Educational Fund, Equal Justice Initiative, and Greater Boston Legal Services.
Steven Saltzman has practiced law for over forty years. His practice areas include criminal defense, police brutality, and employment law.