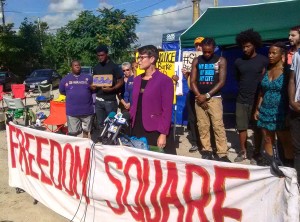 Chicago Alderman are currently preparing to vote on increased penalties for people found guilty of talking back to police officers. The National Lawyers Guild of Chicago is appalled to see Chicago City Council members pushing to add police officers and other first responders to a list of protected classes under our city's hate crimes ordinance. The proposed changes increase possible fines under the ordinance from $500 to $2,500 and violators will continue to face up to six months in jail. We urge Chicago residents, aldermen, and fellow members of the legal community to oppose this unnecessary expansion and reject any increased penalties for civilians interacting with police officers.
The amendment seeks to add police officers, firefighters, and emergency medical crews to the hate crime law's current list of protected identities based on race, sex, sexual orientation, disability, and active or prior military status. Unlike the usual list of immutable characteristics normally protected by hate crimes legislation, career choices do not create a traditionally identifiable "minority" group with a history of social marginalization. In fact, police officers historically and currently enjoy greater protection and social power than the average community member. This proposed amendment is an offensive misuse of hate crimes legislation, which proponents claim is needed to protect society's most vulnerable members.
There is furthermore no documented problem of past or current discrimination or violence directed at police officers. The proposed expansion is a solution to a problem than does not exist. Despite attempts by the law enforcement community and its allies to portray the Black Lives Matter movement as an attack on police that has endangered officers, no such "Ferguson Effect" has been found. According to the Federal Bureau of Investigation, 2015 tied with 2008 for the second lowest death rate for police on national record. According to data from the National Law Enforcement Memorial Fund, over the last three years the leading cause of police officer deaths in the line of duty is car accidents.
The proposed ordinance will serve primarily as another arsenal in the police department's cache of discretionary charges that can be used against protesters. In addition to vandalism and trespass, the ordinance's most likely use is to enhance the penalties for misdemeanor assault–a state charge that can be brought following "conduct which places another in reasonable apprehension of receiving a battery," including language perceived to be threatening.
Such increased penalties are clearly directed at deterring protest, which recently in Chicago has focused on police violence and lack of accountability. Now, in the midst of a Department of Justice investigation for unaccountable and racist use of force by the Chicago Police Department ("CPD"), City Council members seek to further protect and cocoon police from community critique. Over the last two years, grassroots organizers in Chicago have forced the ouster of CPD Superintendent Garry McCarthy, defeated State's Attorney Anita Alvarez, and become the first city in the United States to award reparations to survivors of police torture.
Much momentum for these campaigns was built through marches, rallies, and other actions that placed demonstrators in close proximity to police. Police already have an array of discretionary charges that are regularly used against protesters, and several people have been charged with felony aggravated battery for accidentally coming in contact with police officers during actions or arrests. The proposed hate crimes expansion is merely another charge police will levy against protesters, and thus another tool for repressing dissent during this time of heightened scrutiny.
The proposed ordinance must be recognized for what it is—nothing more than an attempt to portray police as victims of the movements calling for their increased accountability and transparency. As a protective measure, it is both disingenuous and unnecessary. It serves only to further insulate the Chicago Police Department at a time it is already under federal investigation and subject to national attention for the nearly complete immunity with which it operates. Quite simply, the proposed hate crimes expansion is a step back for police accountability in Chicago, and as such, it must be rejected.
National Lawyers Guild of Chicago
Co-signed by:
Chicago Alliance Against Racist and Political Repression
Chicago Coalition for the Homeless Law Project
Law Offices of Standish E. Willis
National Conference of Black Lawyers