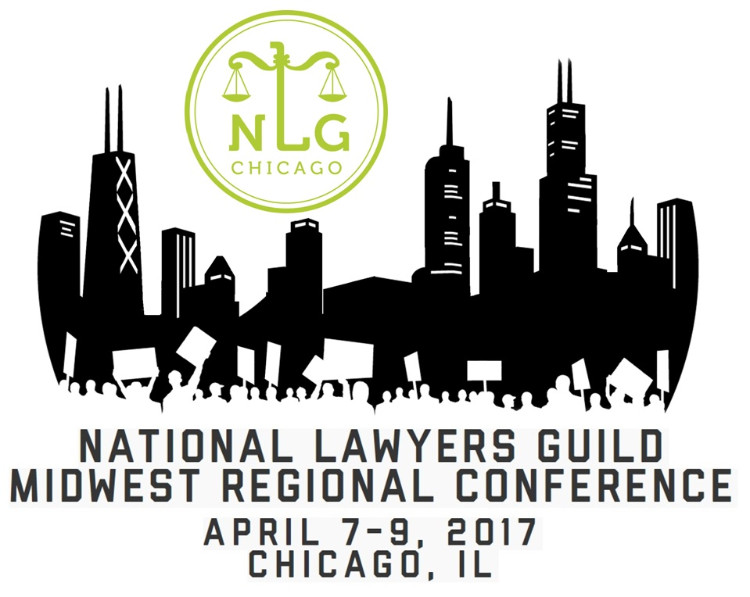 **Access the annotated agenda here.**
Join us April 7 to April 9, 2017 as the NLG Chicago Chapter hosts the NLG Midwest Regional Conference!
The NLG Midwest Regional happens every Spring when we come together to connect, share, learn, and grow our skills as legal practitioners for the People.  This year, we will be focusing on strategies for resistance, community building, & developing the necessary skills for the challenges that are coming.
As always, join us Friday night for an out-of-towner welcome party.  On Saturday we will be having panels on:
confronting the carceral state

responding to immigration challenges

environmental justice, and

surveillance of movements.   
And, we will be gathering together Saturday night to connect and celebrate.  Sunday morning we will caucus and share organizing experiences and skills.  For local folks, we will end with a Legal Observer training on Sunday afternoon.  
CLE credits available!
Registration Information
 Click Here for Registration
$20                  Law students, legal workers, and low-income attorneys
$40 – 60          Lawyers (sliding scale)
*** Includes light breakfast & lunch
*** Vegan options
Alternative Housing
Click Here if you need housing
Click Here if you can provide housing
General Schedule
Friday, April 7, 2017
Welcome Party, 7 – 10 PM
Bottom Lounge, 1375 W.  Lake Street, Chicago

Saturday, April 8, 2017
Chicago-Kent College of Law, 565 W. Adams St, Chicago, IL 60661 (Room 590)
8:30 AM        Morning Registration (coffee & light breakfast)

9:15 AM        Welcome & Keynote (Michael Deutsch)
10:00 AM       Panel I: Working with Movements Confronting Police Violence
11:30 AM       Panel II:  State of Cyber Security: Surveillance, Counter Measures, & Creative Legal Strategies
12:45 PM       Catered Lunch (Haifa Café)
2:00 PM        Panel III: Environmental Justice from Standing Rock to East Chicago: Stop Poisoning the Planet (and the Human Race)
3:30 PM        Panel IV:  Connecting to Community Responses to the Targeting of Immigrant Communities
Evening Celebration at Nellie's
Nellie's Puerto Rican Restaurant, 2459 W. Division St.
* * * Cost of Dinner is $15 (includes one drink!)
Sunday April 9, 2017
Chicago-Kent College of Law, 565 W. Adams St, Chicago, IL 60661 (Room 590)

10:00 AM    Chapter Updates, Community Building, & Informal Skill Sharing
1:00 PM     Legal Observer Training